Product Description
Presenting the all new and improved Apple iPad Air 2. The Apple iPad Air 2 features a super thin yet durable and elegant body, an ultra sharp 9.7 inches?1536 x 2048 resolution display, a brand new Apple A8x chipset, 2 GB Ram, a Fingerprint Sensor and a brand new iSight Camera. Experience the gold standard in tablet experience with the all new and improved Apple iPad Air 2.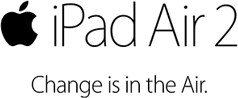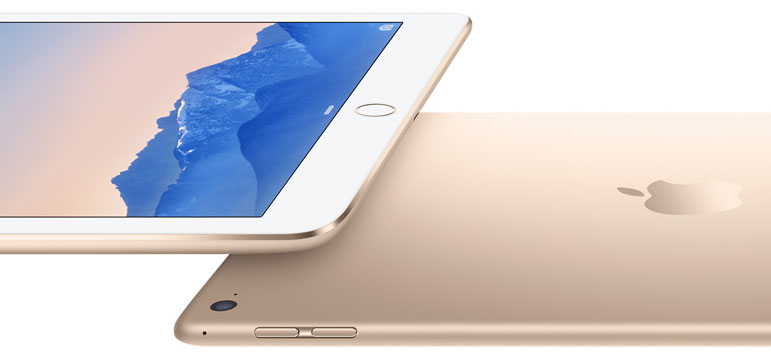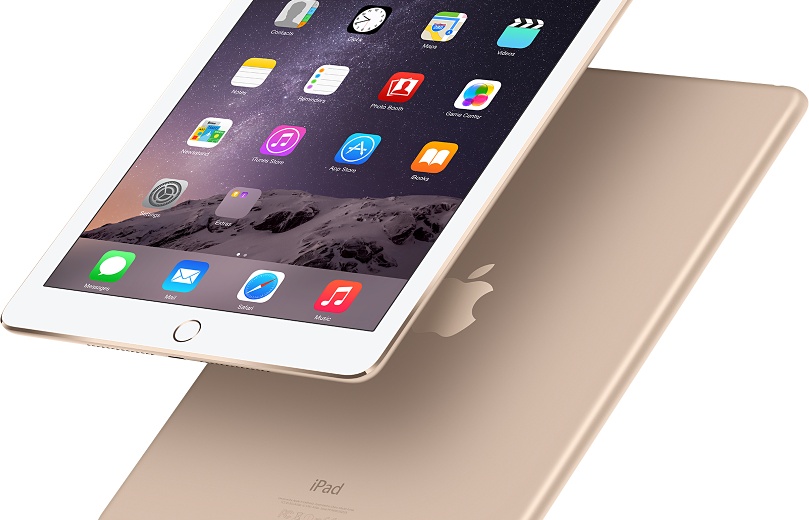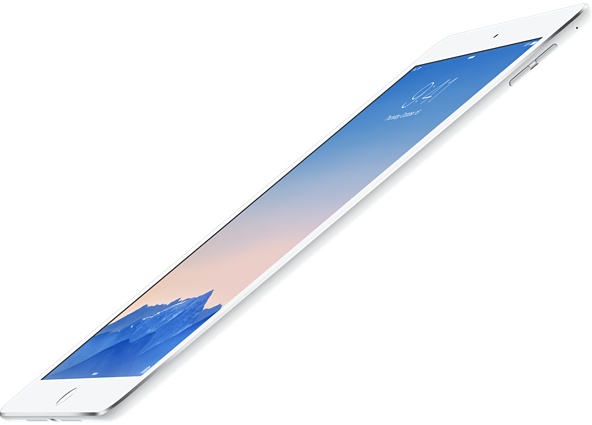 ? ?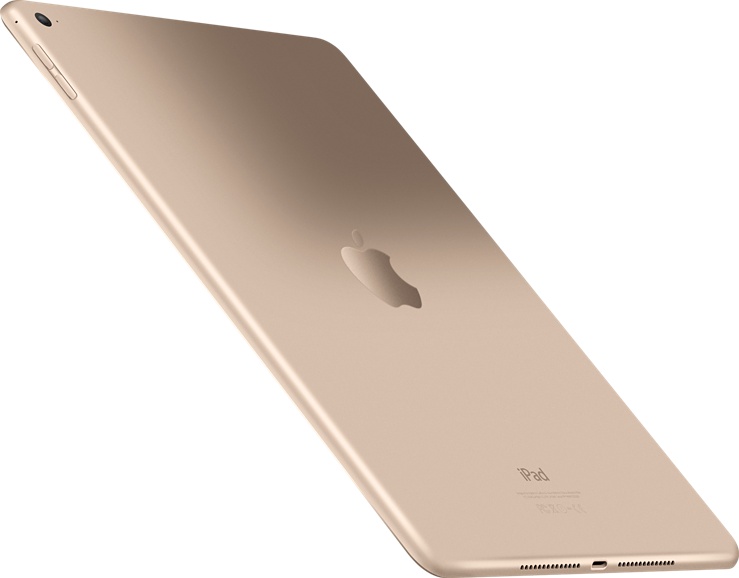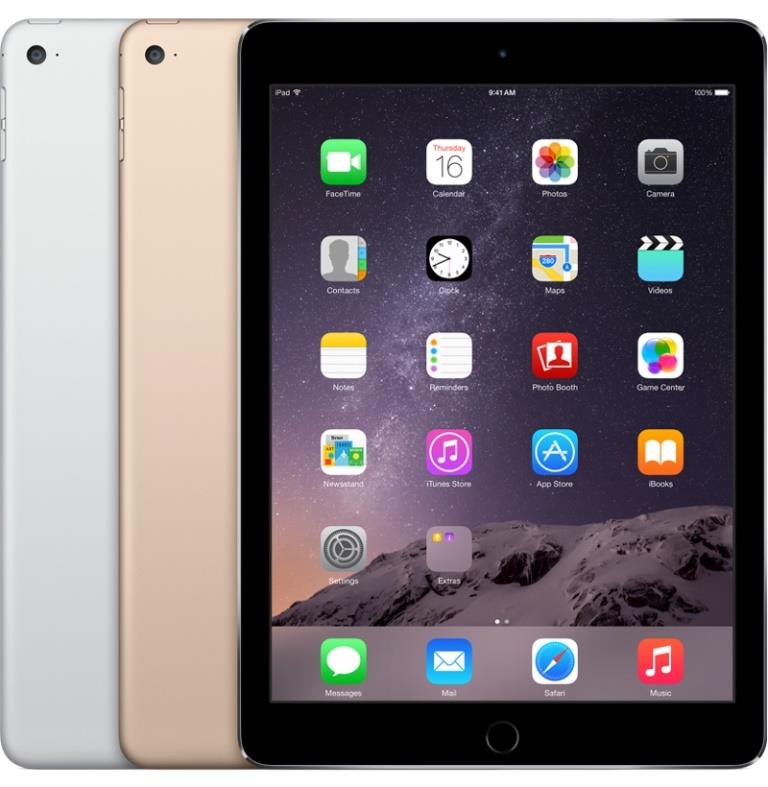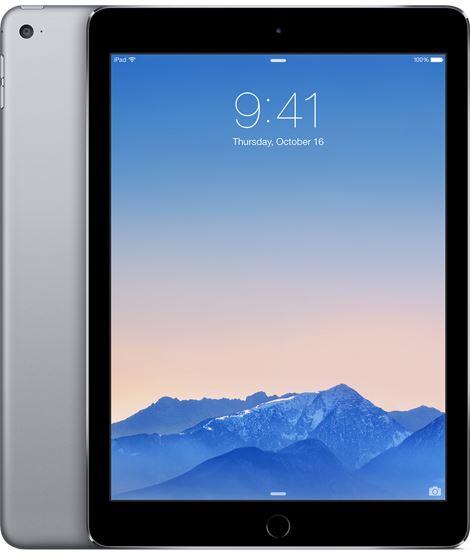 Design
So Capable, you won't have to put it down. So thin and light, you won't have to.
The first thing that comes to mind when you hold the iPad Air 2 is how thin and light it is. Measuring in at an impossibly thin 6.1 mm, the iPad Air 2 is the thinnest iPad yet. And since it weighs less than a pound, its easier to hold in one hand and take it with you wherever you want.

Ingenuity makes it thin.Aluminum makes it?strong.
It has always been the iPad heritage to set the bar for thinness and lightness. This time around, the iPad Air 2 is even thinner and lighter. But don't let the thinness fool you. Thanks to its durable aluminum unibody, the all new iPad Air 2 does not sacrifice strength in pursuit of thinness.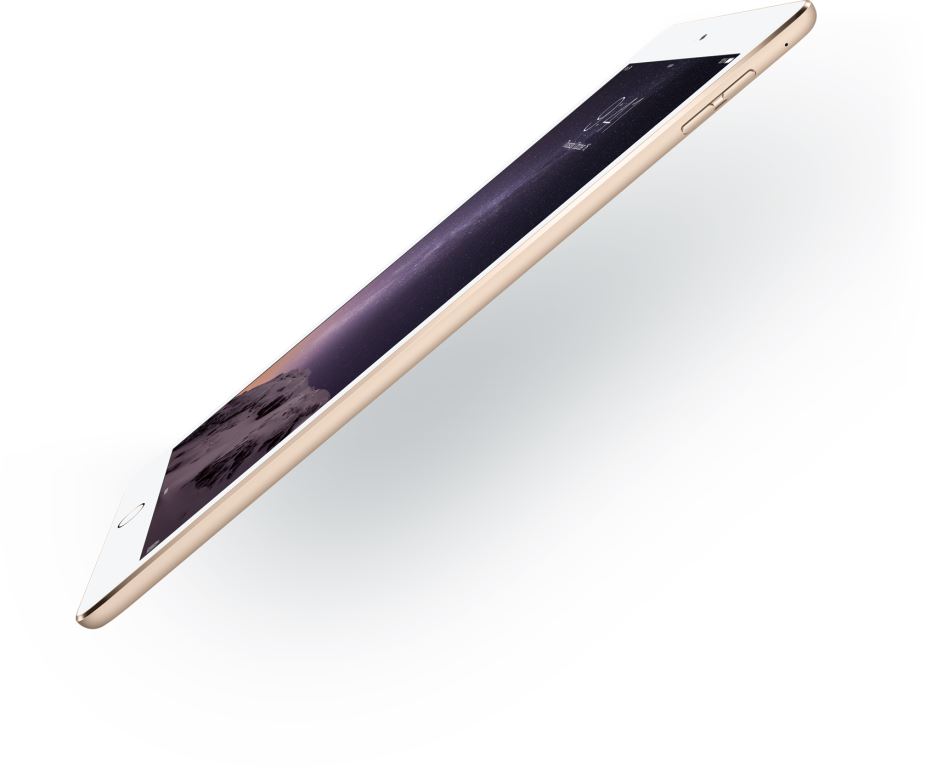 Not just a thinner display.?A better?display.
The displays on previous generations of iPad used three separate components. iPad?Air?2 changes all that, combining those three layers into just one. This eliminates gaps between layers, along with the internal re?ectance caused by those gaps. The result? Colors are richer, contrast is greater, and images are sharper and more?vivid.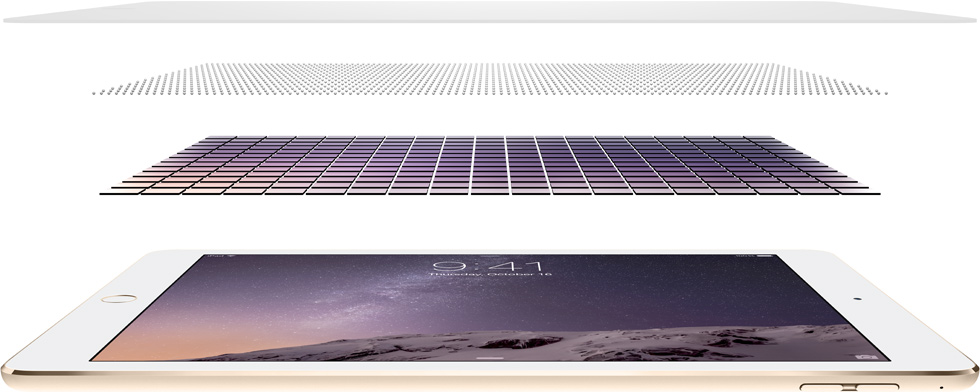 Every detail counts.

Even?the ones measured in?microns.

The beveled edges of the aluminum unibody are cut with a mono-crystalline diamond to tolerances measured in microns. (For reference, the width of a human hair is about 75 microns.) That level of detail may seem excessive. But every detail adds up to a better overall?experience.

Performance
Massive power.

In its most minimal?form.

With a new A8X chip built on second-generation 64-bit desktop-class architecture, iPad Air 2 is the fastest, most powerful iPad ever. With this kind of performance, you might expect a compromise or two. Like a bigger form factor or a shorter battery life. But iPad Air 2 is both thinner and lighter than the previous iPad Air. And thanks in part to the M8 motion coprocessor, it still has an incredibly long 10-hour battery life.?So you can do more. While carrying less.

40 percent faster CPU?performance.
Compared with the A7 chip in the previous iPad Air, the new A8X chip delivers 40 percent faster CPU performance. From launching apps to playing games, everything is more fluid and responsive. And all your actions ? swiping, pinching, zooming, scrolling, and rotating ? happen quickly and smoothly.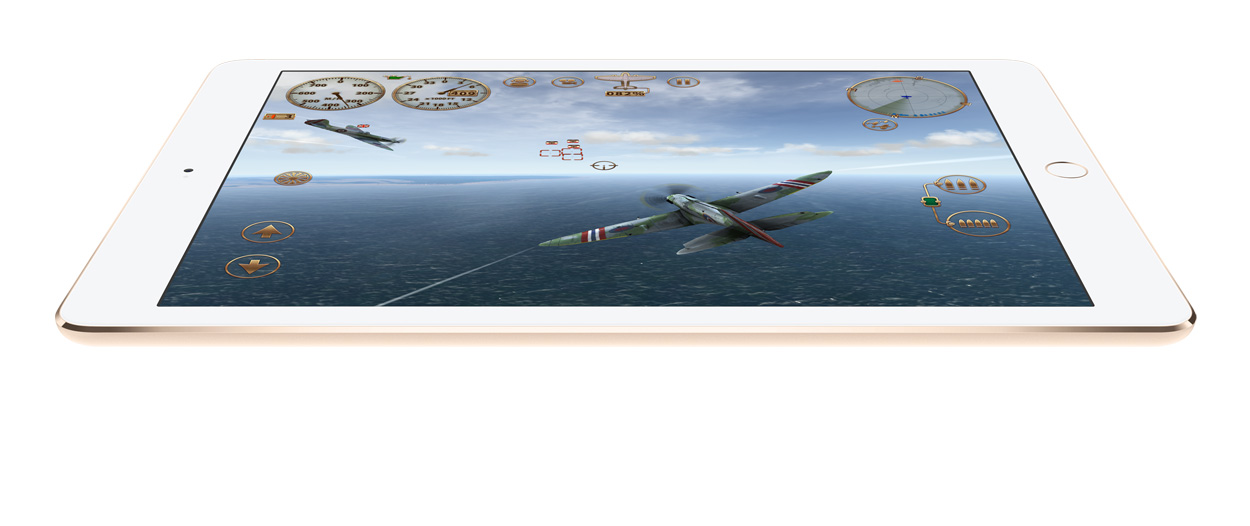 More than double the graphics?performance.
The A8X chip has an astonishing 2.5 times the graphics performance of the A7 chip. So iPad Air 2 delivers graphics once possible only on desktop computers and gaming consoles. Graphics-intensive games and video editing apps run superbly, and they look gorgeous on the big Retina display.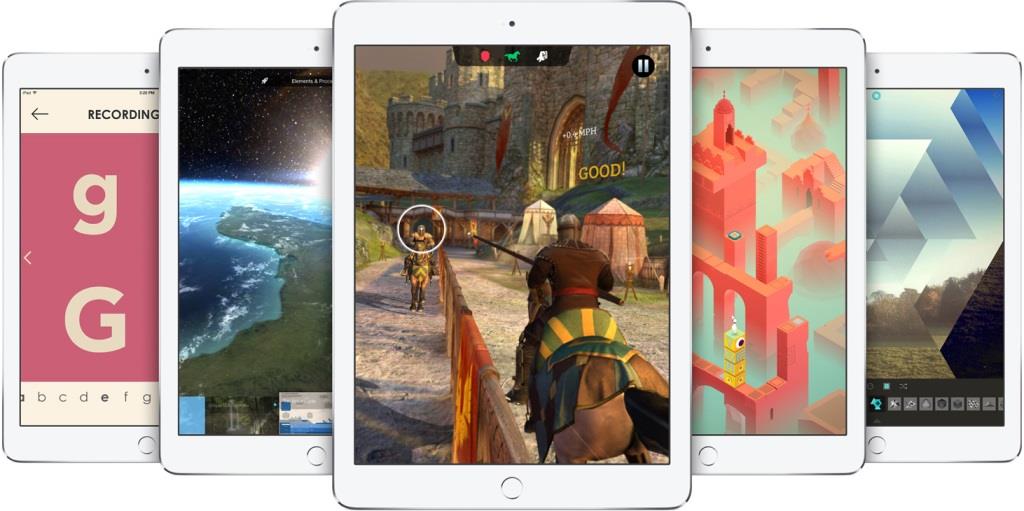 Touch ID
One touch unlocks your?iPad?Air?2.
With Touch ID, you put your finger on the Home button, and just like that, your iPad unlocks. And Touch ID is capable of 360-degree readability. No matter how you?re holding it ? portrait, landscape, or anything in between ? your iPad knows who you are.

The technology behind Touch?ID.
The Home button on iPad Air 2 is made from a sapphire crystal surrounded by a stainless steel ring. When you touch the button, the?steel ring detects your finger and the crystal sends an image of your fingerprint to a sensor. Software then reads the ridges of your print and confirms a match. And it all happens in the blink of an?eye.

Cameras
Two amazing cameras. Cleverly?disguised as an?iPad.
You won?t believe how good a photographer you are. With an improved sensor, advanced optics, and a more powerful image signal processor, the new iSight camera in iPad Air 2 captures incredibly detailed photos and professional-looking 1080p HD videos. The FaceTime HD camera has been redesigned, too, with a new sensor that makes your video calls look better, even in low light. And the large, high-resolution Retina display makes a spectacular viewfinder.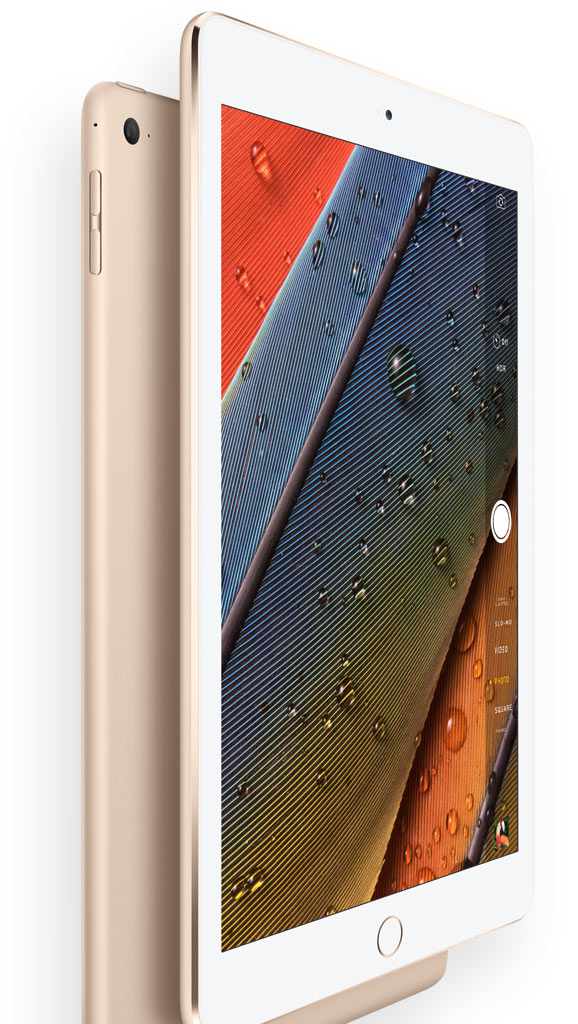 New iSight camera.
The new iSight camera was designed to help you capture all of life?s moments at a moment?s notice. And with every shot, the image signal processor works in sync with the camera to deliver a great picture or video ? automatically.
All-new?sensor.
The iSight camera?s new 8MP sensor captures images in 3264-by-2448 native resolution and 1080p HD video. So your photos and videos stay sharp and clear, even when viewed on larger screens.
Advanced image signal?processor.
Behind the precision optics and the new sensor lies the brains of the iSight camera: the powerful image signal processor in the A8X chip. Its improved face-detection technology keeps more ? and smaller ? faces in focus. And better noise reduction gives you cleaner, sharper images.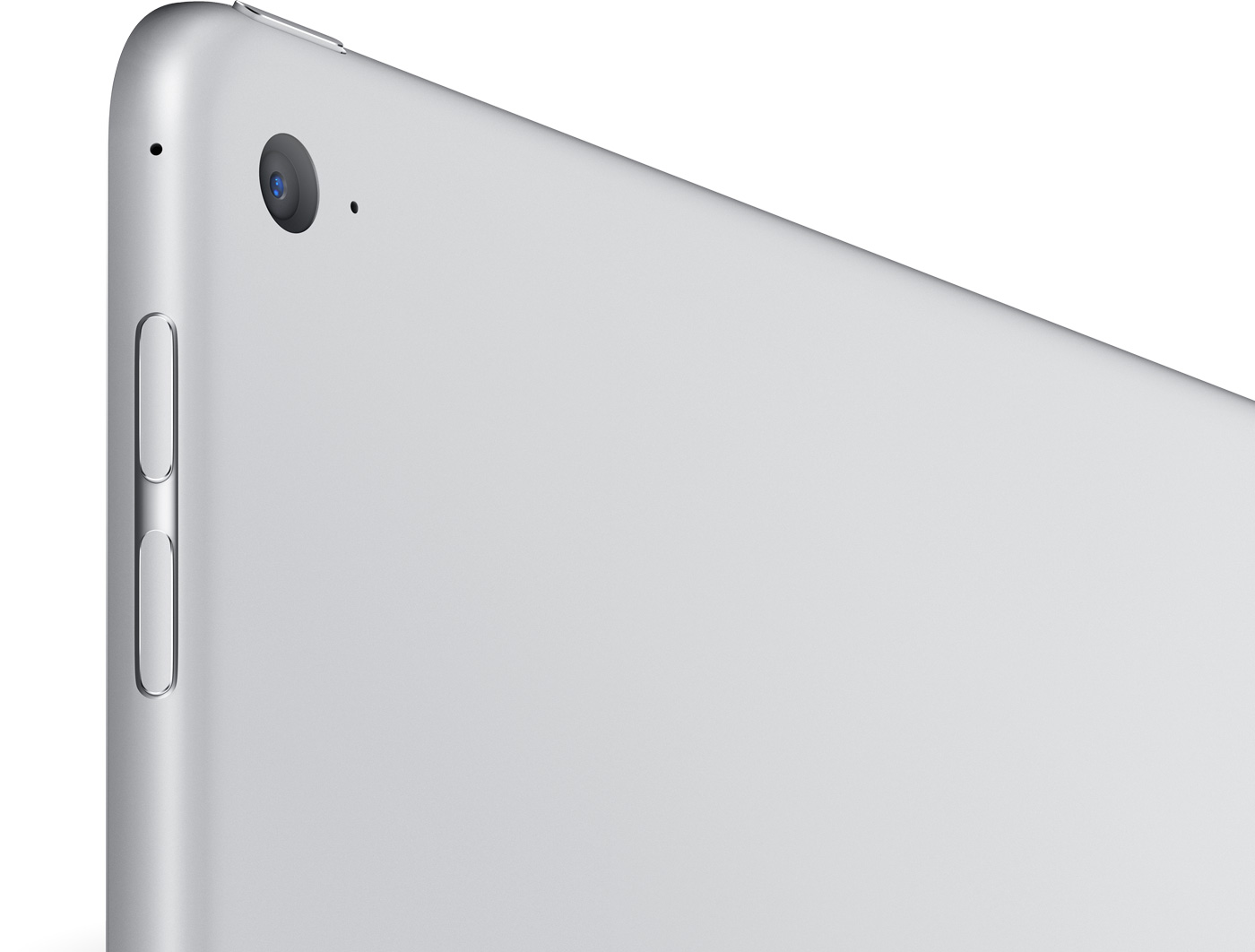 New FaceTime HD camera.?See?and?be?seen.
Put a face ? or two ? on every conversation. The front-facing FaceTime HD camera has a larger ?/2.2 aperture that lets in 81 percent more light. And an all-new sensor and larger pixels improve performance in less-than-ideal lighting conditions.
More personal video?calls.
Thanks to its new FaceTime HD camera and brilliant Retina display, video calls on iPad Air 2 are clearer than they?ve ever been. So no matter who you?re talking to or where they are, you?ll feel like you?re both in the room.
Dual?microphones.
The two microphones in iPad Air 2 don?t just collect more sound. Together, they employ sophisticated noise-reduction technology to suppress background noise. In addition, when you switch cameras from front to back (or vice versa), the microphones switch, too. So what your iPad sees is also what your iPad hears.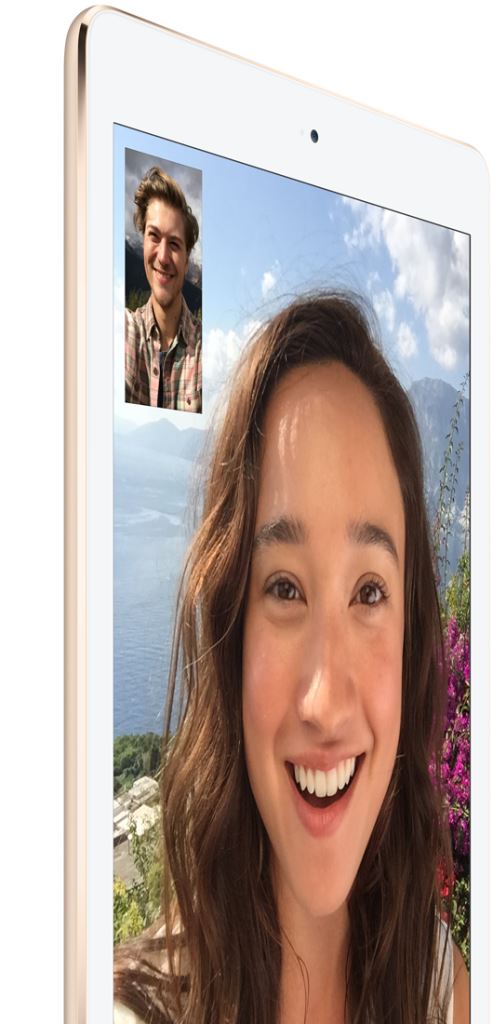 IOS 8
iOS 8 and iPad?Air.?A?powerful combination.
With an easy-to-use interface, amazing features, and security at its core, iOS 8 makes your iPad more capable than ever. It?s designed to look beautiful and work beautifully, so even the simplest tasks are more engaging. And iOS 8 is engineered to take full advantage of the powerful A8X chip, ultrafast wireless, and brilliant Retina display of iPad?Air?2.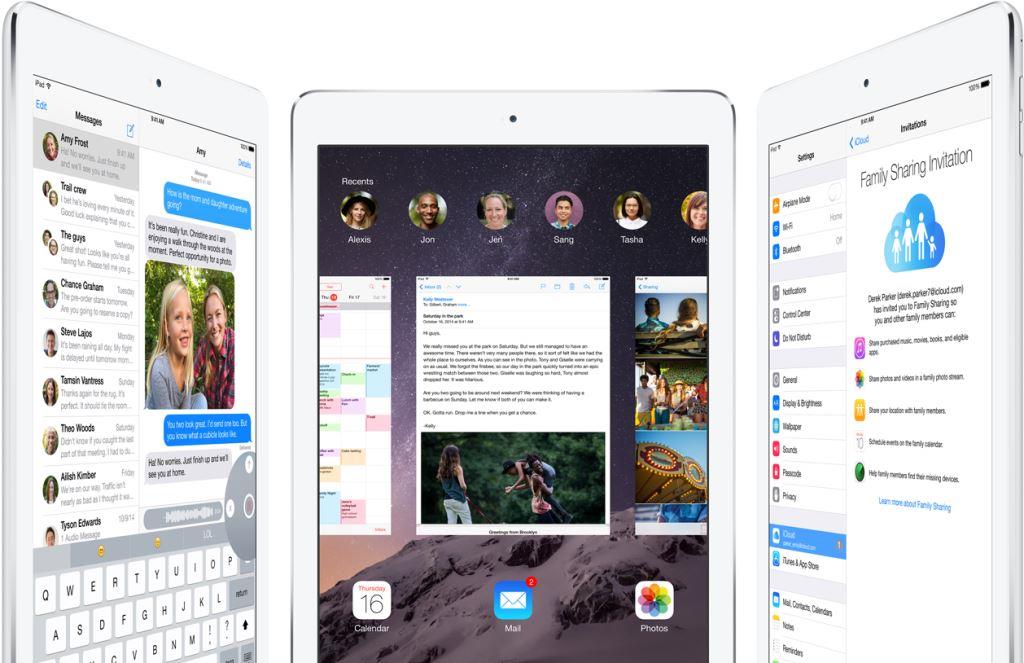 Messages.?Actually LOL. OL.
Look forward to doing amazing new things with the app you use most. In iOS 8, Messages has fun, useful, even surprising features that will change the way you think about?messaging.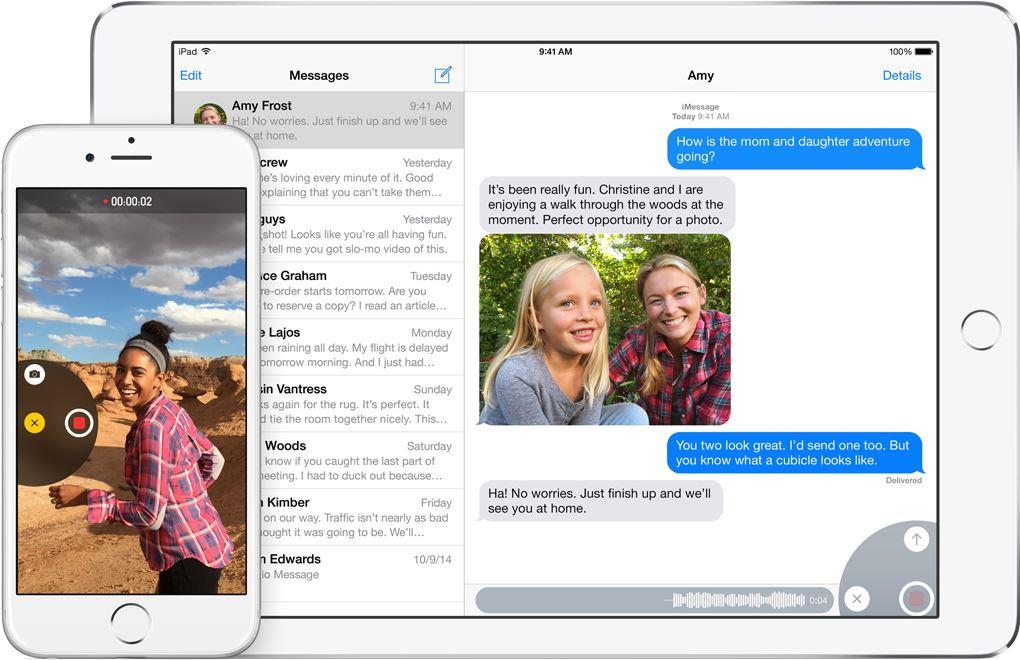 Continuity. iPad, iPhone, and Mac?? connected like?never?before.
Apple products have always been designed to work together beautifully. But now, with iOS?8 and OS X Yosemite, they?re more connected than ever. You can start writing an email on your iPhone and pick up where you left off on your iPad. Or browse the web on your Mac and continue from the same link on your iPad. You can even answer phone calls on your Mac or?iPad.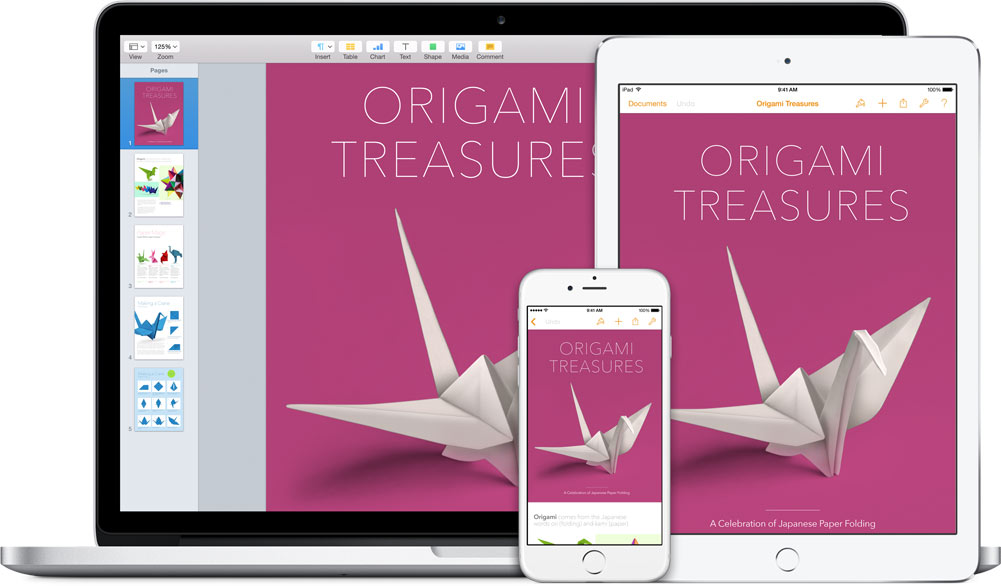 Family Sharing. It?s good to share. And now you can do it with all your?content.
Family Sharing brings harmony to your family?s digital life. Up to six people in your family can share purchases from iTunes, iBooks, and the App Store without sharing accounts. You can pay for family purchases with the same credit card and approve kids? spending right from a parent?s device. And you can easily share photos, a family calendar, and more to help keep everyone?connected.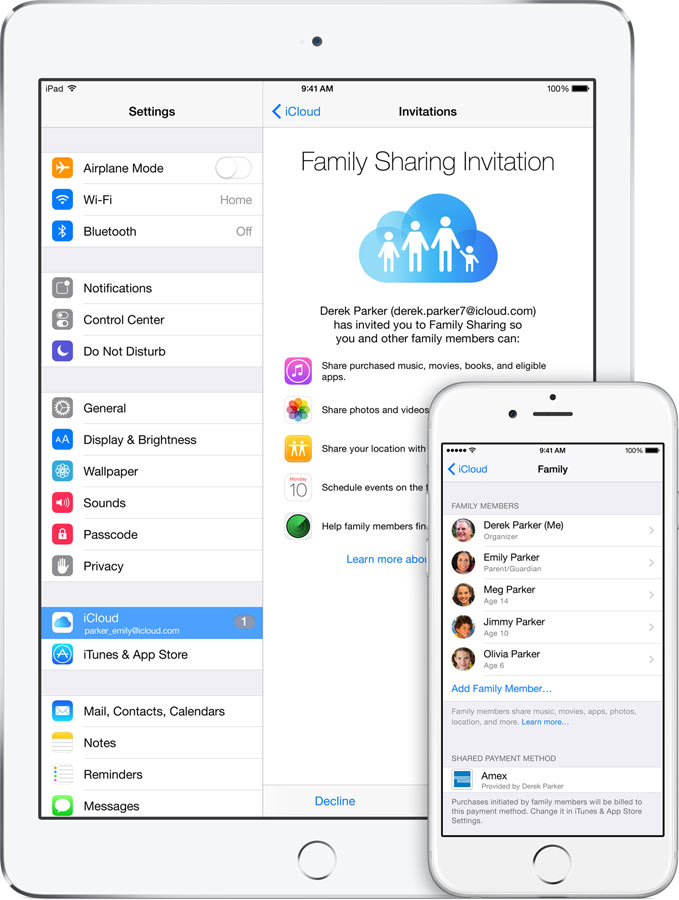 Faster wireless. Good things come to those who don?t?wait.
Wi-Fi on iPad Air 2 is fast ? more than twice as fast as the previous generation ? so downloading movies and streaming videos take less time. And the Wi-Fi Cellular model is equipped with faster, more advanced LTE technology.2?In addition, the cellular model lets you choose from a variety of carriers and flexible short-term plans. So?you?can make fast connections, even when you?re?on?the?go.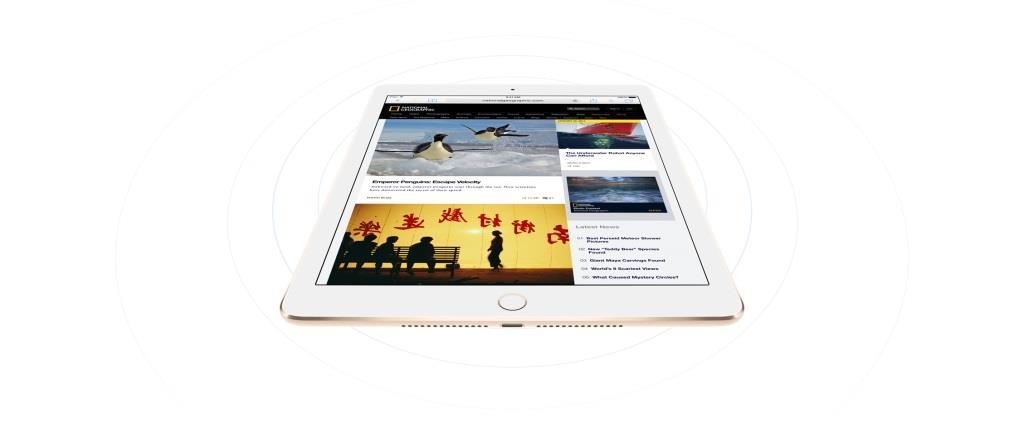 Apps designed for iPad.?And everything you want to do with?it.
iPad Air 2 comes with powerful apps for the things you do every day, like surfing the web, checking email, editing movies and photos, writing reports, and reading books. And there are hundreds of thousands of apps on the App Store, designed specifically for the large Retina display (instead of stretched-out phone apps). So whether it?s photography, gaming, traveling, or managing your finances, you?ll find an app that will help you do it better.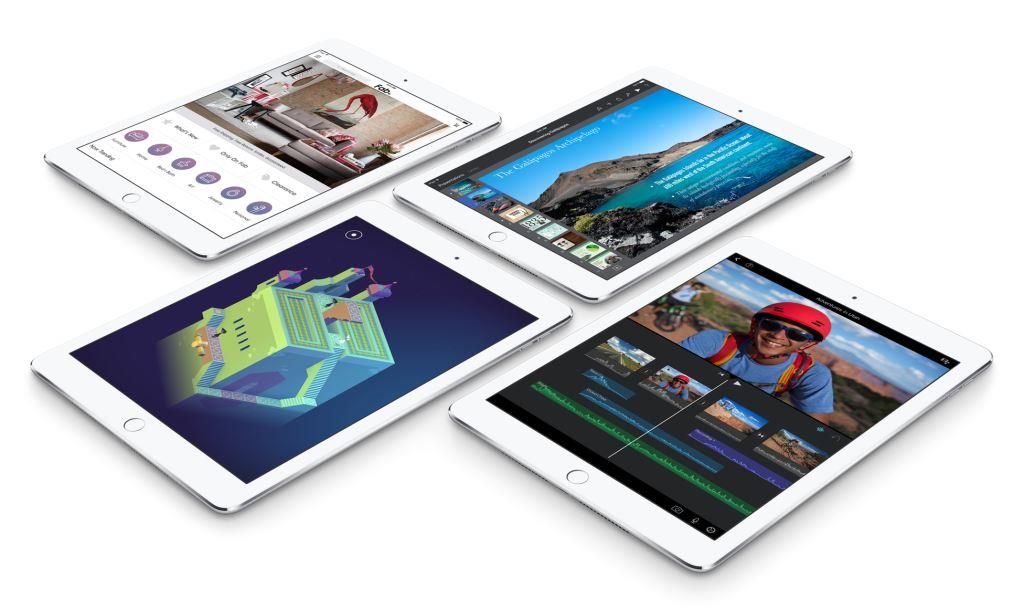 Even the covers are more?brilliant.
Protect every pixel of iPad Air 2 with a Smart Cover or Smart Case. Available in seven bright new colors, the Smart Cover is made from durable polyurethane. The Smart Case, in rich aniline-dyed leather, protects both the front and back of your iPad.

Unboxing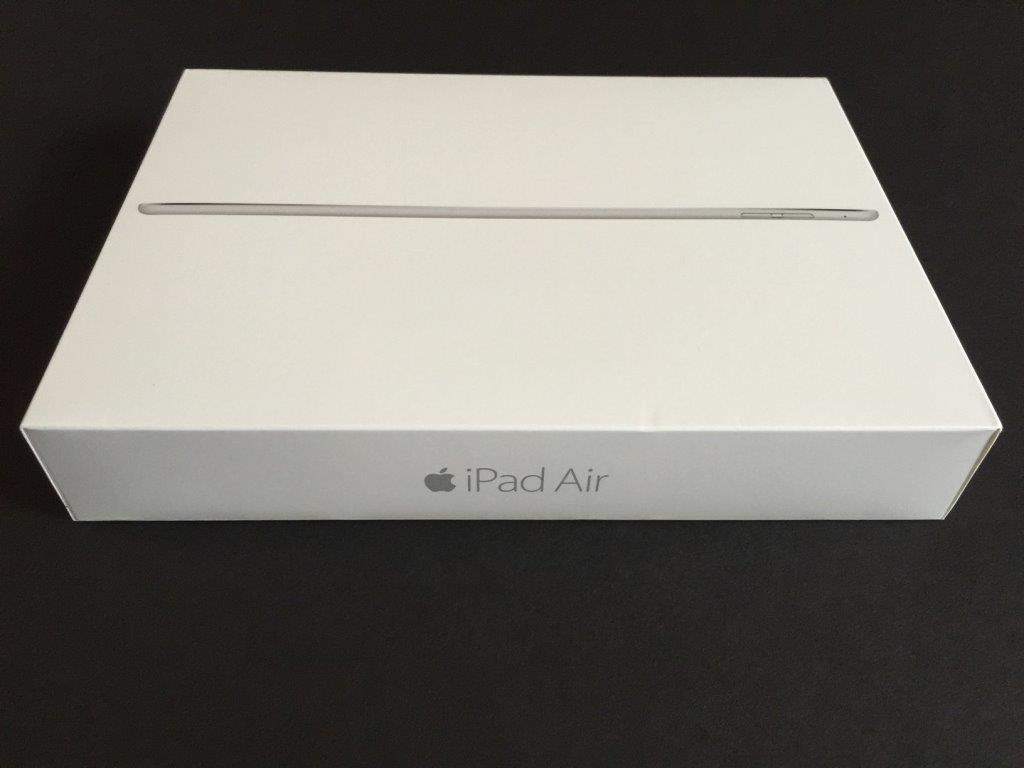 ? ? ??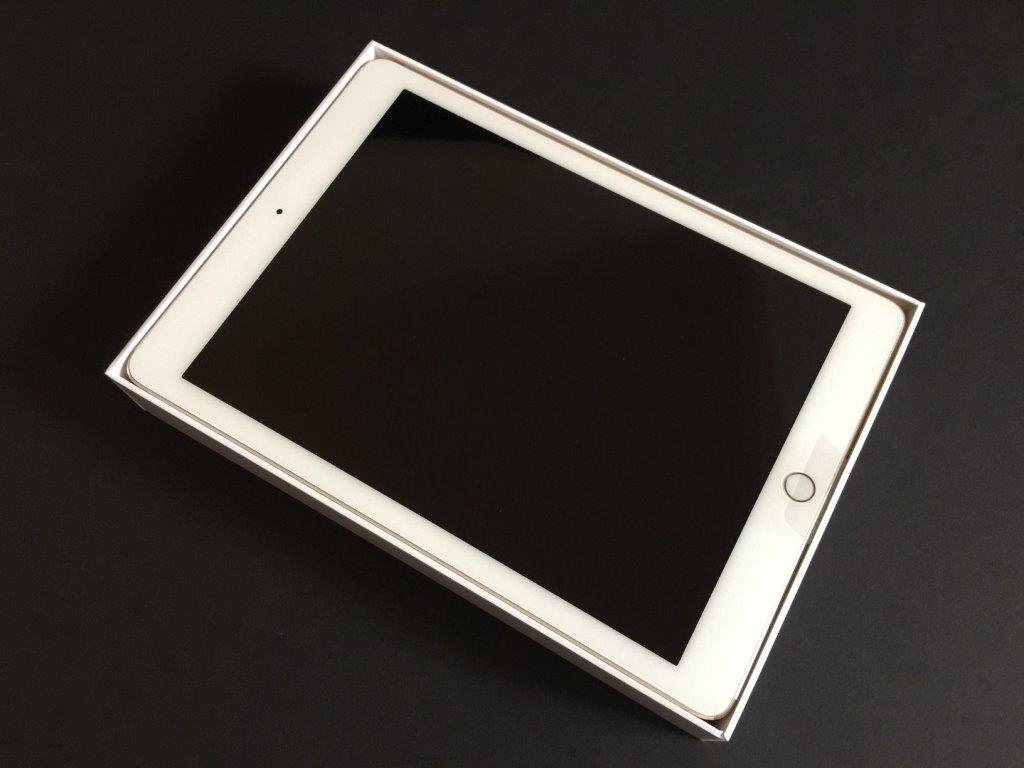 ? ?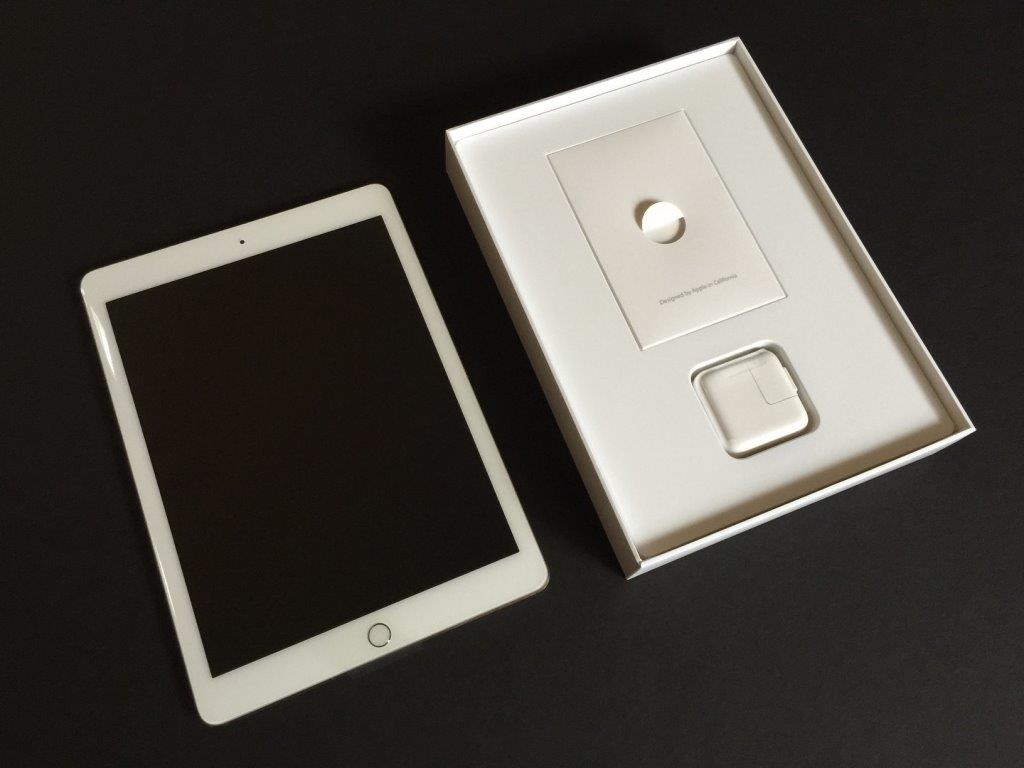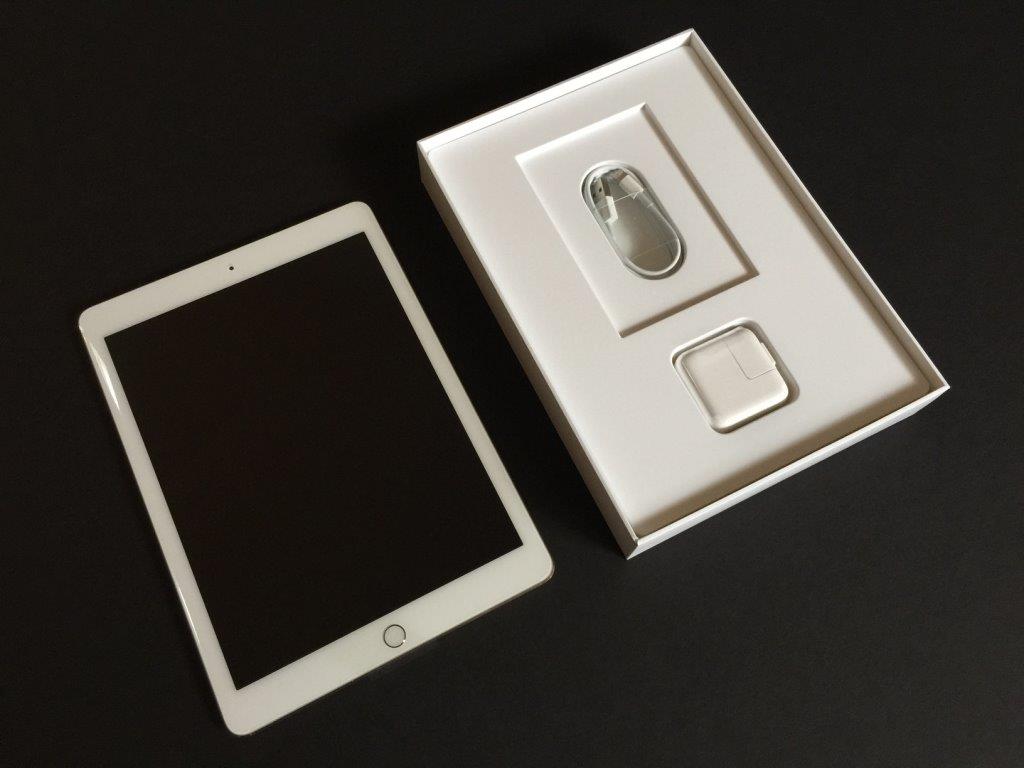 ? ? ? ?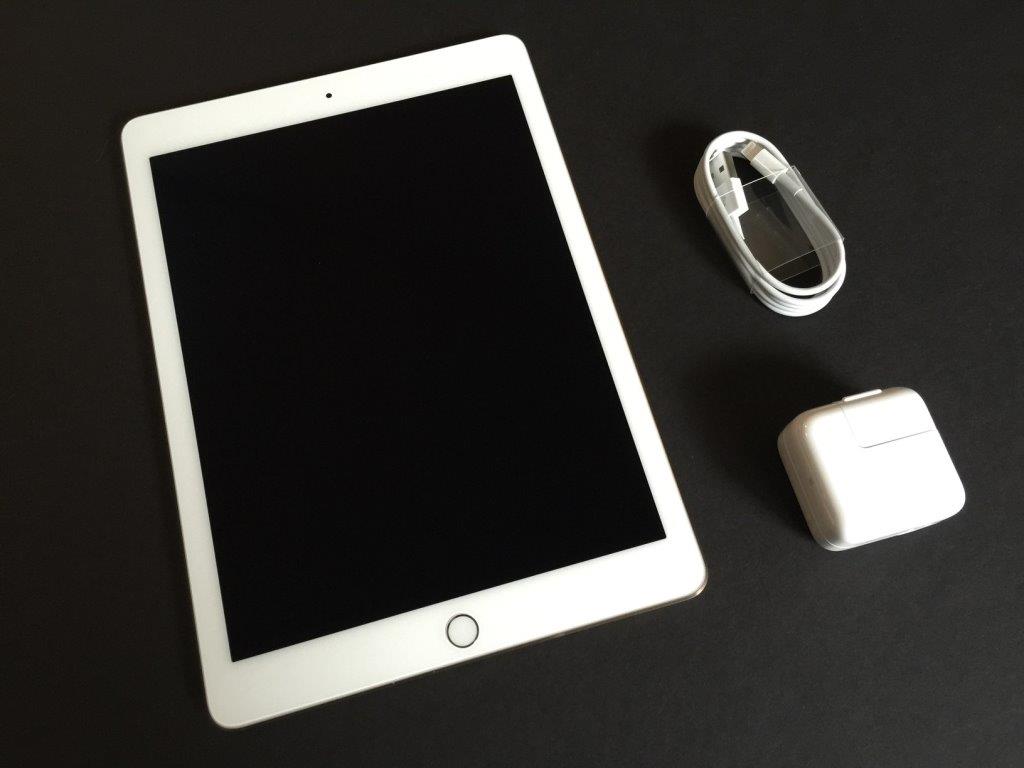 Specifications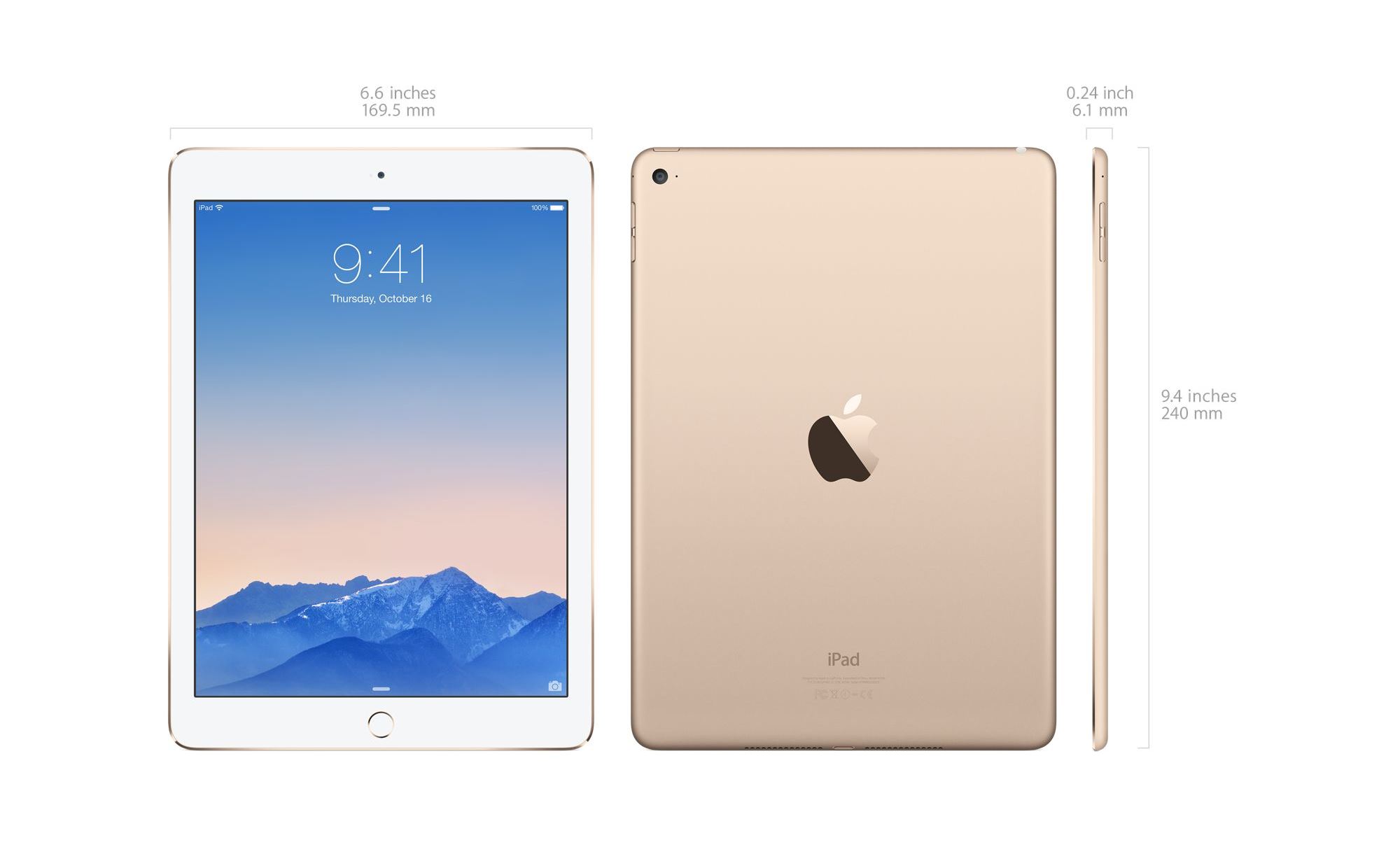 Platform
?iOS 8.1, upgradable to iOS 8.1.1
Touch Screen
?Yes
Dual Sim
?No
Dual Camera
?Yes,?1.2 MP,

[email protected]

QWERTY Keyboard
?No
Wi-Fi
?Wi-Fi 802.11 a/b/g/n/ac, dual-band, hotspot
Screen Size
?9.7 inches
GPS
?Yes, with A-GPS, GLONASS
Camera Phone
?Yes
Camera Pixel
?8 MP, 3264 x 2448 pixels, autofocus (1.12?m pixel size)
Camera Flash
?No
Processor Type
?1.5 GHz Triple Core Apple A8X
Frequency Band
?850/900/1800/1900/2100
Color Display
?Yes, 16M
Resolution
?1536 x 2048 pixels ?Retina display ?(264 ppi)
Bluetooth
?Yes v 4.0,?A2DP, EDR
Video Recorder
?Yes,

[email protected]

,

[email protected]

, HDR, stereo sound recording
FM Radio
?No
MP3 Player
?Yes
MMS
?Yes
Web Browser
?HTML5 (Safari)
4G
?Yes
GPRS
?Yes
EDGE
?Yes
Handsfree Speaker
?No
RAM
?2 GB
Internal Memory
?128 GB
Expandable Memory
?No
USB
?v2.0, reversible connector
Talk Time
?Up to 10 hours (Non-removable Li-Po battery (27.3 Wh))
Standby Time
?N/A Non-removable Li-Po battery (27.3 Wh)
Dimension
?240 x 169.5 x 6.1 mm
Weight
?444 g